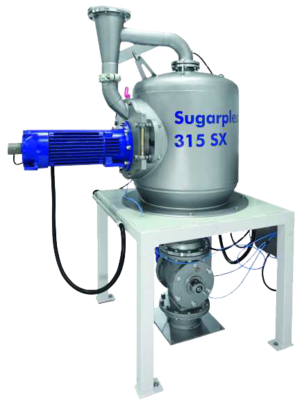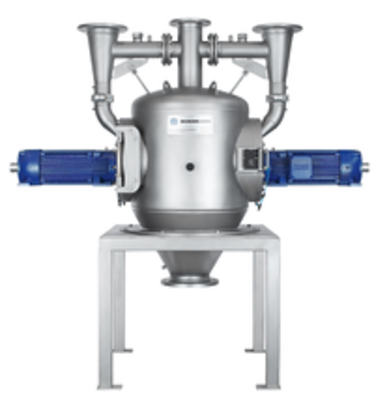 Versatile size-reduction system with pin discs
Generously dimensioned mill door for easy cleaning
This extremely compact system requires neither the additional filter, fan nor air cooling units that are commonly needed with conventional system designs for sugar milling. That means that the plant operator benefits from lower investment costs, reduced space requirement and lower cleaning and maintenance costs. The cylindrical mill design includes an 800-mm-diameter container with a conical product discharge, and the mill can be excellently integrated into an existing system.
The coarse sugar is fed via a rotary valve through the mill door directly into the centre of the grinding unit. The grinding unit consists of 2 pin discs and is completely integrated into the mill door. The door can be opened quickly and easily and can be swung wide open so that the user can inspect or clean the milling tools at any time with no problem. The Sugarplex 315 SX achieves throughputs of 3 t/h at a fineness of 99% < 450 µm or 1.5 t/h at a fineness of 99% < 150 µm.
The mill is driven by an 18.5-kW three-phase motor that is suitable for ATEX zone 22. The inner pin disc sits directly on the motor shaft and rotates at speeds of up to 145 m/sec. A special seal prevents oil from penetrating the product area on the one hand, and sugar or washing water ingressing the motor on the other hand. The motor speed is steplessly adjustable and the desired fineness can be set using a frequency converter.