Blown Film Lines
Complete lines and components for blown film production
Design, engineering, development, production and commissioning – we offer you innovative and high-performance blown film lines from one source. With Hosokawa Alpine lines and systems as your manufacturing partner for blown films, you will have a partner you can lean on every step of the way, right from initial trials to final production. We are with you every step of the way. You will ultimately have a final product that meets your current requirements exactly and yet offers the flexibility of adapting it to your future needs.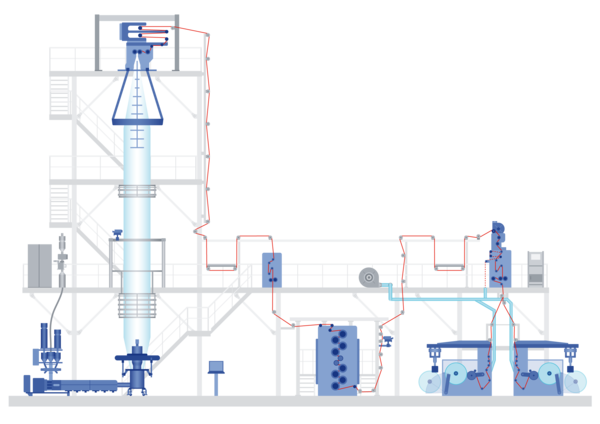 (1) Extruder, (2) Screen changer, (3) Die head, (4) Cooling, (5) Take-off, (6) Orientation lines MDO, (7) Winder, (8) System control
Only premium quality components are used in Hosokawa Alpine blown film lines. For you, this translates into: Stable processing and hardly any standstill in your system. Thus, you get the highest performance for your blown film production – provided by a system you can rely on.
Use of our premium quality original components is critical for economical film production. Ranging from high-performance extruders to our user-friendly precision winders. Other outstanding advantages of Hosokawa Alpine systems include one-of-a-kind technologies such as the film die head on the series X for optimum film finishes and very short changeover times, or the TRIO system for ultra-efficient film orientation technology.